VIVACE is a great choice for anyone who wants to improve the look and texture of their skin without undergoing a surgical treatment.
Tightens and Lifts the Skin
Rejuvenates the Skin
Minimises Wrinkles
Reduces Pore Size
Removes Acne Scars
Treats Acne
Removes Stretch Marks
Treats Hair Loss
What areas
can VIVACE treat?
Face
Neck and Décolletage
Around the Eyes, Crows Feet
Scalp
Body
Vivace is the newest generation of radiofrequency (RF) needling device on the market. Produced by South Korean Leading manufacturing company with patented RF technology to become the world's most effective RF adopted by renowned plastic surgeons and dermatologists across the world. Vivace is one of the most innovative and effective cosmetic treatments on the market today. It combines Micro needling technology with Radio Frequency and LED light to rejuvenate the skin. This minimally – invasive treatment stimulates the natural production of collagen, elastin and hyaluronic acid whilst tightening the skin. It can be used on all skin types, and even around the eyes.
What does VIVACE Offer to Patients?
Radiant Skin
The Vivace Experience offers noticable improvement of the skin's tone, texture and firmness.
Healthy Skin
The Vivace Experience is a minimaly invasive treatment that alleviates fine lines and wrinkles, evens out skin colour, minimizes pore size, and provides a glowing complexion and leaves you with smoother and healthier-looking skin.
Collagen Stimulation
Microneedling is also known as CIT (collagen induction therapy). This treatment uses sterile microneedles to create microscopic openings deep in the dermis that can remain exposed for four to six hours. This allows the body adequate time to trigger new collagen production and heal these micro-wounds.
The Vivace combines Microneedling with RF energy, allowing for the electrocoagulation of the dermis to remodel the collagen and elastin even further.
Safe And Chemical-Free Process
The Vivace evenly distributes the radiofrequency heat across its 36 gold plated micro-needles. This treatment tightens skin across the face and reduces redness with minimal downtime. No other microneedling treatment is as comitted to providing a comfortable and comprehensive patient experience.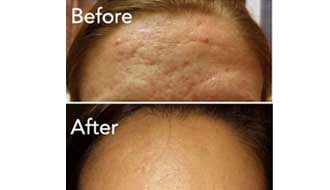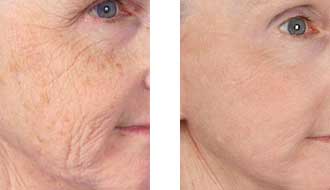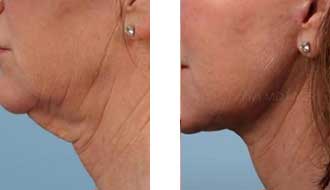 Skin texture, fine lines and wrinkles
Look at Vivace experience
Love the Skin Your In
THE VIVACE EXPERIENCE® is a new treatment approach that combines microneedling and radiofrequency energy with a specialized treatment serum and cooling peptide mask to provide patients with superior, natural-looking results.
Frequently asked questions
What is RF?
Radio-frequency treatments use heat to stimulate collagen production in the tissues. Radio-frequency treatments are proven to reduce fine lines and wrinkles and enhance the skin. When combined with state-of-the-art microneedling treatments, patients achieve optimal results.
How does VIVACE Work?
The handheld Vivace device works by delivering radiofrequency energy as heat to the lower dermis layer of skin via tiny needles. The needles and heat create precise microdamage that jumpstarts your body's cell-regeneration process.
This natural healing response both remodels your skin's structural proteins—collagen and elastin—and stimulates the production of more. Over time, your skin becomes firmer, plumper, and smoother.
"Microneedling with radiofrequency is far more effective than microneedling alone, if you want to do something that will really make a quick and real difference, do microneedling with radiofrequency."
What Kind of Skin does Microneedling Work On?
Unlike laser treatments, microneedling and RF treatments can treat most skin tones and types, including tanned or dark skin. This gives Vivace® treatments a major advantage over other non-invasive skincare procedures.
What Happens During a VIVACE Treatment?
On the day of the treatment, we will start by applying a topical anesthetic numbing cream, which takes about 30 minutes to become fully effective.
Once your skin is numb, we will move the Vivace handpiece over your face. Vivace uses a robotic micromotor to gently push the needles into the skin." Once they're in your skin, the tiny insulated needles emit heat RF from their tips into the dermis. While they are under the skin for a split second, energy is delivered and tissue is heated, creating a healthy layer of tightening and decreasing lines.
How Long does Treatment Take?
The treatment itself usually takes about 45 minutes, depending on how many areas you're having treated and whether you have any complementary treatments. This means that the total treatment time will be around an hour and a half.
Is VIVACE Painful?
The Vivace Experience® was designed to bring patients' comfort to a new level. Many patients describe the feeling as light pressure on the face and find this treatment to have minimal downtime.
Thanks to the numbing cream that's applied before treatment, you shouldn't feel much discomfort during the procedure.
You will probably feel light pressure and an occasional sparking feeling, but most patients say they felt no pain during the treatment.
Recovery After VIVACE?
The Vivace Experience® has one of the shortest recovery times for treatments of this nature. Some patients even go out after their treatment without needing to cover redness or swelling with makeup. It is recommended to wait at least eight hours before applying makeup, and some patients may benefit by waiting until the following morning. As part of the Vivace Experience we will apply a triple action of Exomage to replenish the skin barrier or soothing sheet mask immediately after your RF microneedling treatment, to calm the skin and minimise redness. Avoid direct sun exposure, excessive sweating, and steam for a couple of days, too.
How Soon Will You See Vivace Results?
Your skin may look smoother and brighter within hours of your treatment, but significant results rely on your body's natural production of collagen, which takes several weeks to several months to develop.
Your skin tone, texture, and overall appearance will continue to improve for up to six weeks with each treatment. You will see the best results about six months after beginning Vivace Experience.
What are The Risks and Potential Side Effects of VIVACE?
You may have pinpoint bleeding and scabbing, minor swelling, or redness immediately after your treatment. These side effects are temporary and should resolve within a few days.
Cost of VIVACE?
The cost of your Vivace Experience® will depend on the number of body areas treated as well as the number of microneedling treatment sessions that are expected. Please book a skin consultation to have more accurate price.
How Many VIVACE EXPERIENCE® Treatments Do I Need?
At Laser Skin Medical we will determine your specific treatment protocols. We recommend 4-6 treatments, spaced 2 weeks apart, to provide the optimal results patients are looking for. Single and maintenance treatments are available, depending on your desired outcome.
How Long do The Results Last?
Everyone is different, but the collagen and elastin you make is your own and continues accelerated production over the next six months.
Most patients will find that their results last for a few years, though this will vary depending on the number of treatments and number of touch-up treatments that a patient chooses. Patients who get routine touch-up treatments report long-term results.
To book an appointment with us, call, email or book online.