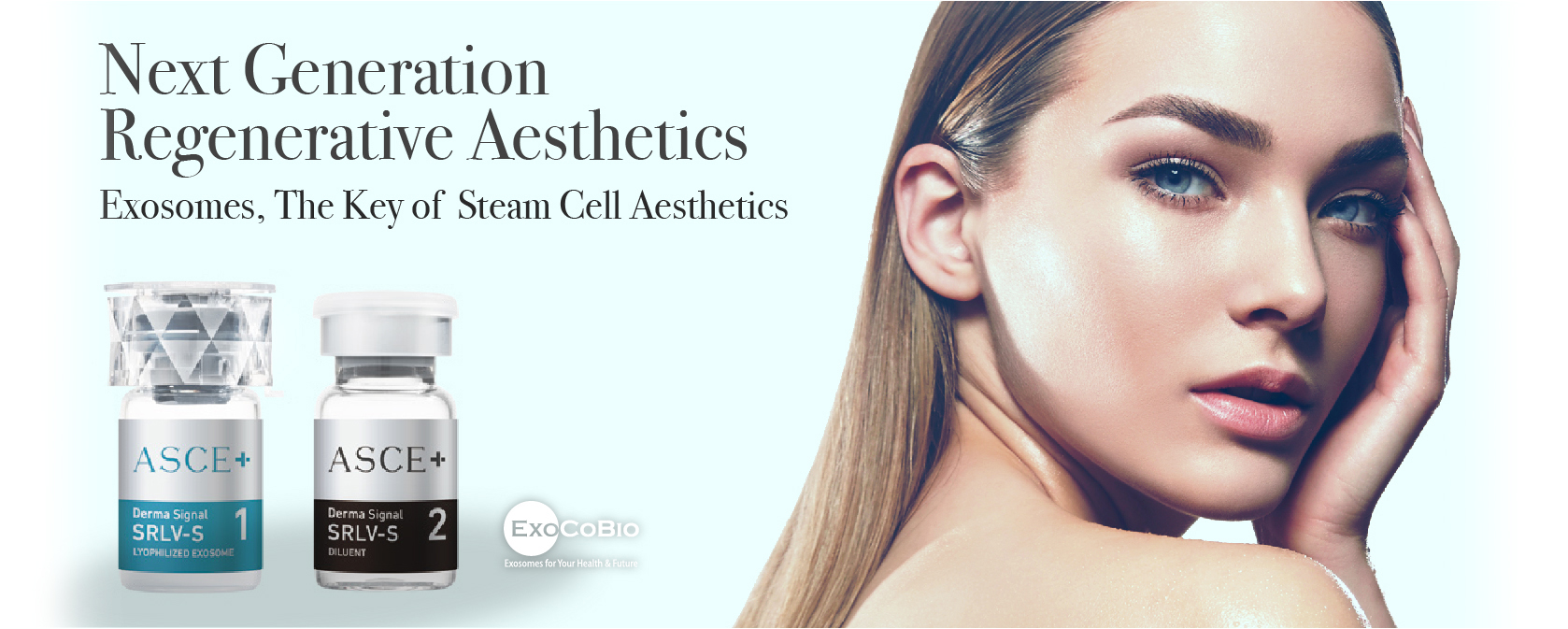 Exosomes Skin Rejuvenation
The Power of Exosomes Therapy
The latest in skin transformation: Inquire about how this treatment can help exacerbate all of your skin goals, especially when combined with our Vivace treatment, Microneedling or Skin Peels. Now is a great time to watch your skin transform!
Did you know each exosome treatment delivers the equivalent of  5 billion stem cells full of  proteins, potent growth factors, coenzymes, minerals, amino-acids and vitamins straight to your skin cells, up to 700x more than pure collagen.
Exosome therapy is the latest treatment that is impressing doctors – many argue that exosomes may be more important than stem cells due to their unique ability to function as a "messenger" within the body, transferring information from cell to cell. Enhancing stem cell therapy with added exosomes is considered superior and optimal therapy.
Exosome treatments are based on the most cutting edge scientific biotech breakthrough for skin rejuvenation and regeneration. Exosomes are responsible for cell to cell communication and for facilitating the exchange of RNA and other important proteins between cells (e.g. fibroblasts, keratinocytes, immune cells, etc.), in addition to transferring numerous growth factors and cytokines and genetic materials that have shown signs of tissue repair and improving skin cells.
Different from stem cells, exosomes are the nanoparticles that are pinched off from cells in the shape of a vesicle.  Inside each vesicle are rich sources of protein, DNA, and RNA from the originating cells. These vesicles can be taken up by other distant cells and affect the function of these target cells. Although exosomes are secreted by all cell types, those that are derived from stem cells (undefined cells that can develop into any cell type) have a powerful role in regenerative medicine by facilitating healing and repair processes.
Exosomes can be used to significantly increase skin collagen and elastin. This can show incredible results in changing the appearance of scars, decreasing skin irritation, helping with acne, addressing sagging skin, and overall improving the appearance of your skin. 
The Exosomes are diffused over the outer skin layers thus releasing the growth factors to the injured skin and activating an enhanced healing process, and tissue remodeling – providing the most strength and support your skin has ever seen.
Exosome Regenerative Complex and Exosome Regenerative Complex + powered by ExoSCRT™, the most cutting edge scientific biotech breakthrough for clinically proven skin and scalp rejuvenation and regeneration available, harnessing the power of STEM CELL DERIVED LYOPHILIZED EXOSOMES potent GROWTH FACTORS, PEPTIDES, COENZYMES, MINERALS, AMINO ACIDS, and VITAMINS.
Exosome regenerative complex + for skin & scalp
Clinically proven intensive dual-action
Breakthrough technology
More powerful
More potent
Faster result
Noticeably reduces the appearance of age related pigment
Visibly makes skin appear firmer and more youthful
Visibly reduces the appearance of fine lines and wrinkles
Hydrates and nourishes skin
Promotes a more radiant and even toned complexion
Perfect for ageing skin: decrease in fine lines, wrinkles and age spots
For dull dehydrated skin: brighter and more hydrated
For sensitive skin: less redness and irritation
Uneven texture and enlarged: improved skin texture
Hyaluronic Acid
Super anti-aging booster
6 Minerals: Disodium Phosphate Potassium Chloride Sodium Chloride Sodium Phosphate
9 Growth Factor Complex: sh-Decapeptide-7, sh-Octapeptide-4, sh-Oligopeptide-9, sh-Pentapeptide-5
30 Amino Acids: Lysine HCL, Phenylalanine, Praline, Serine, Threonine, Leucine, Valine, Alanine, Arginine, Histidine, Isoleucine
Vitamin
Retinol
6 Peptides: Acetyl Hexapeptide-8 Copper Tripeptide-1 Nonapeptide-1 Palmitoyl Pentapeptide-4 Palmitoyl Tetrapeptide-7 Palmitoyl Tripeptide-1
4 Coenzymes
Minerals: Disodium, Phosphate, Potassium, Chloride, Sodium
Growth factors play a pivotal role in maintaining firmness and elasticity in your skin. Daily use of skin care products containing growth factors is known to help reduce the appearance of fine lines, wrinkles and improve skin tone and texture.
Lyophilized EXOSOME
Skin Rejuvenation I Calming
+
Hyaluronic Acid
Hydration
+
Neuropeptide Complex
Calming I Brightness I Skin Rejuvenation
+
Retinol
Anti-Wrinkle
+
Ascorbic Acid (Vitamin C)
Anti-Oxidant I Skin Brightening
ASCE+ Exosome
Excellent for Various Skin Concerns:
-sensitive skin
-dull skin
-big pores
-rough & dry skin
-stressed skin
-saggy skin
How does it
improve the skin?
Reinforcement: For recovery of aged skin
Turn-over: To a healthy skin by improving the skin environment
Autogenous Ability : That enables fundamental recovery of skin
ASCE+ SRLV is
recommended for
Skin with weak regenerative ability
Unbalanced skin with big pores and redness
Acne skin with acne scars
Sensitive and thin skin by nature or other environmental reasons including frequent procedures
Skin with other inflammatory skin diseases such as atopic dermatitis, rosacea
To book an appointment with us, call, email or book online.