Microneedling is also referred to as Collagen Induction Therapy (CIT) and it is becoming one of the most popular non-invasive treatments for smooth and bright skin on the face and body.
If you're not quite ready for laser skin resurfacing—and you're definitely not interested in cosmetic surgery just yet—where do you turn for a gentler, more natural approach to looking younger? Microneedling is a new aesthetic treatment that encourages your skin to revitalise and renew itself naturally.
It is a non-surgical, minimally invasive treatment that activates your body's own healing response to increase college, lastin, glycosaminoglycans and nutrients to rejuvenat e your skin and hair.
What Is Microneedling?
Microneedling uses tiny needles on a handheld device that makes controlled micro-channels (tiny holes) in the skin where ageing has begun to reveal itself. Each tiny hole stimulates your skin to create more collagen and elastin to send to the area to heal it. Once this happens, the collagen adds volume to the skin, and the elastin helps return the skin to its original state.
Microneedling with Meso-Coctails
I use MESO-COCKTAILS in conjunction with microneedling to penetrate into the skin. Meso-Coctails contain an exclusive complex comprised of hyaluronic acid, antioxidants, minerals, vitamins, amino acids, and calming agents. The capsulation of the ingredients is based on a new development of micro-emulsion. This technology allows the ingredients to penetrate deeper into the dermis layer, increasing its efficiency and permeability, treating both superficial and deep skin conditions.
MICRONEEDLING BENEFITS
Microneedling can be performed on the face, neck, chest, hands, and parts of the body. It can improve the skin's appearance in a number of different ways including:
• Brighten skin tone
• smooth skin texture
• Firm and tighten areas of laxity
• Diminish fine lines and wrinkles
• Reduce hyperpigmentation, sun spots, and melasma
• Minimise acne scars and depressions
• Treats pore size
• Improve the appearance of stretch marks
• Can treat eye area
• Treats Hair Loss
Click here to see Microneedling costs.
MICRONEEDLING ADVANTAGES OVER LASERS AND CHEMICAL PEELS?
Microneedling is a zero-downtime treatment and has certain advantages over lasers and chemical peels. To start, it can safely be performed on all skin types, including thin and sensitive skin, and there is less risk of hyperpigmentation and scarring compared to lasers. In addition, microneedling is very cost-effective and can be used on delicate areas, like eyes, that chemical peels are unable to treat.
Is it safe for all skin types?
Microneedling is safe for all skin types as it eliminates the risk of melanocyte heat injury and actually optimises cell function, making it the the ideal treatment for all skin types.
What to expect after Microneedling?
After a Microneedling procedure your skin may look slightly red and feel dry, like a mild sunburn. This redness and dryness usually dissipates within a few days after the treatment. As the natural restorative process is activated, the production of new collagen happens gradually over weeks and months. Your skin will continue to improve over a longer period of time as well. Therefore, microneedling is not a quick fix
procedure, but a treatment that provides long lasting results over time. A series of microneedling treatments gives remarkable results of skin rejuvenation.
Am I a candidate for Microneedling?
Microneedling is an effective treatment for many unwanted skin defects and signs of ageing, such as fine lines, wrinkles or sagging skin. A microneedling treatment can provide great results as well with acne
scars, pigment spots and rough pores. The treatment is safe for all skin types and skin colours and can even be applied to sensitive areas that cannot be treated as easily with other procedures.
What are the side effects of Microneedling?
The most common side effect is minor skin irritation immediately following the procedure. You may also see redness for a few days.
When will I see the result?
Following a series of 3 to 6 microneedling treatments spaced approximately every 4 to 6 weeks, within a few days patients begin to see noticeable results. And within 2 to 3 months, when the greatest benefit is seen, individuals report fully refreshed skin that looks and feels more youthful. These results can last between 1 to 2 years afterwards depending on the individual.
Microneedling – Before and After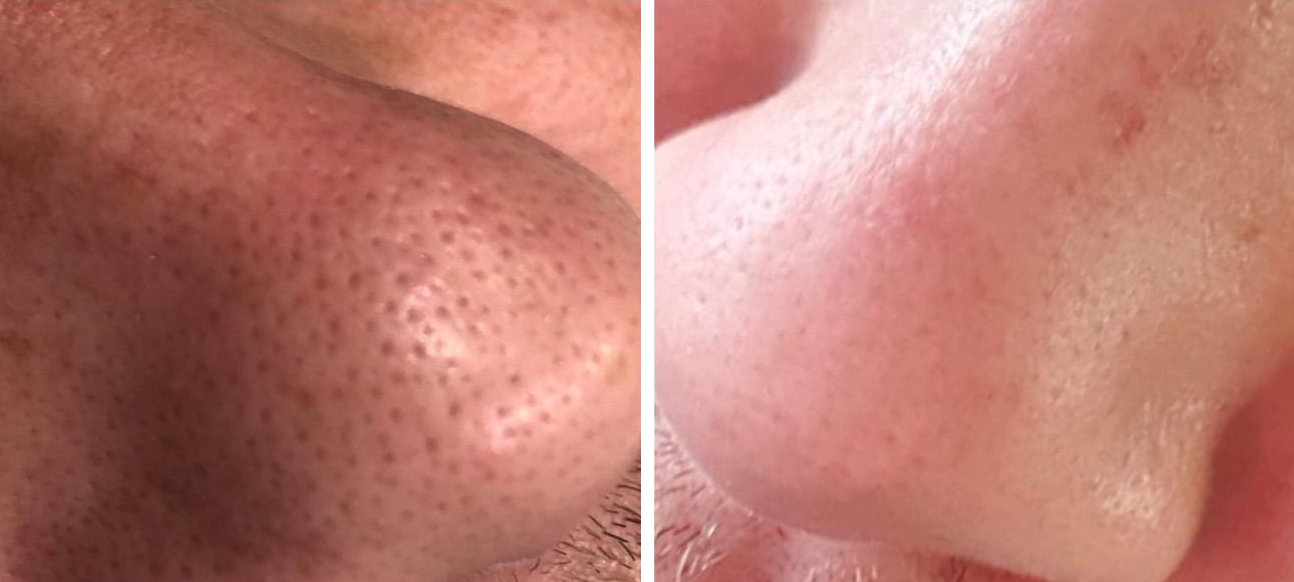 To book an appointment with us, call, email or book online.