Micro-needling can omprove the way your skin looks and help you feel great about yourself.
What Is Microneedling?
Microneedling uses 12 tiny surgical grade needles on a handheld device that makes controlled micro-channels (tiny holes) in the skin where ageing has begun to reveal itself. This process stinulates your skin's natural ability to heal itself and in the process stimulates fibroblast cells that produce collagen and elastin, two of the most important substances in maintaining plump, youthful and glowing skin. In return it will reduce the appearance of wrinkles and fine lines and improve the overal texture of the skin. 
MICRONEEDLING BENEFITS
Microneedling can be performed on the face, neck, scalp, chest, hands, and parts of the body. It can improve the skin's appearance in a number of different ways including:
Brighten skin tone
Smooth skin texture
Minimise Wrinkles
Diminish fine lines and wrinkles
Minimise Acne Scars
Treats pore size
Improve the appearance of Stretch Marks
Treats Hair Loss
Click here to see Microneedling costs.
MICRONEEDLING ADVANTAGES OVER LASERS AND CHEMICAL PEELS?
Microneedling is a zero-downtime treatment and has certain advantages over lasers and chemical peels. To start, it can safely be performed on all skin types, including thin and sensitive skin, and there is less risk of hyperpigmentation and scarring compared to lasers. In addition, microneedling is very cost-effective and can be used on delicate areas, like eyes, that chemical peels are unable to treat.
Is it safe for all skin types?
Microneedling is safe for all skin types as it eliminates the risk of melanocyte heat injury and actually optimises cell function, making it the the ideal treatment for all skin types.
What to expect after Microneedling?
After a Microneedling procedure your skin may look slightly red and feel dry, like a mild sunburn. This redness and dryness usually dissipates within a few days after the treatment. As the natural restorative process is activated, the production of new collagen happens gradually over weeks and months. Your skin will continue to improve over a longer period of time as well. Therefore, microneedling is not a quick fix procedure, but a treatment that provides long lasting results over time. A series of microneedling treatments gives remarkable results of skin rejuvenation.
Am I a candidate for Microneedling?
Microneedling is an effective treatment for many unwanted skin defects and signs of ageing, such as fine lines, wrinkles, sagging skin, acne scars, pigment areas and pore size.
The treatment is safe for all skin types and skin colours and can even be applied to sensitive areas that cannot be treated as easily with other procedures.
What are the side effects of Microneedling?
The most common side effect is minor skin irritation immediately following the procedure. You may also see redness for a few days.
When will I see the result?
Following a series of 3 to 6 microneedling treatments spaced approximately every 4 to 6 weeks, within a few days patients begin to see noticeable results. And within 2 to 3 months, when the greatest benefit is seen, individuals report fully refreshed skin that looks and feels more youthful. These results can last between 1 to 2 years afterwards depending on the individual.
Microneedling – Before and After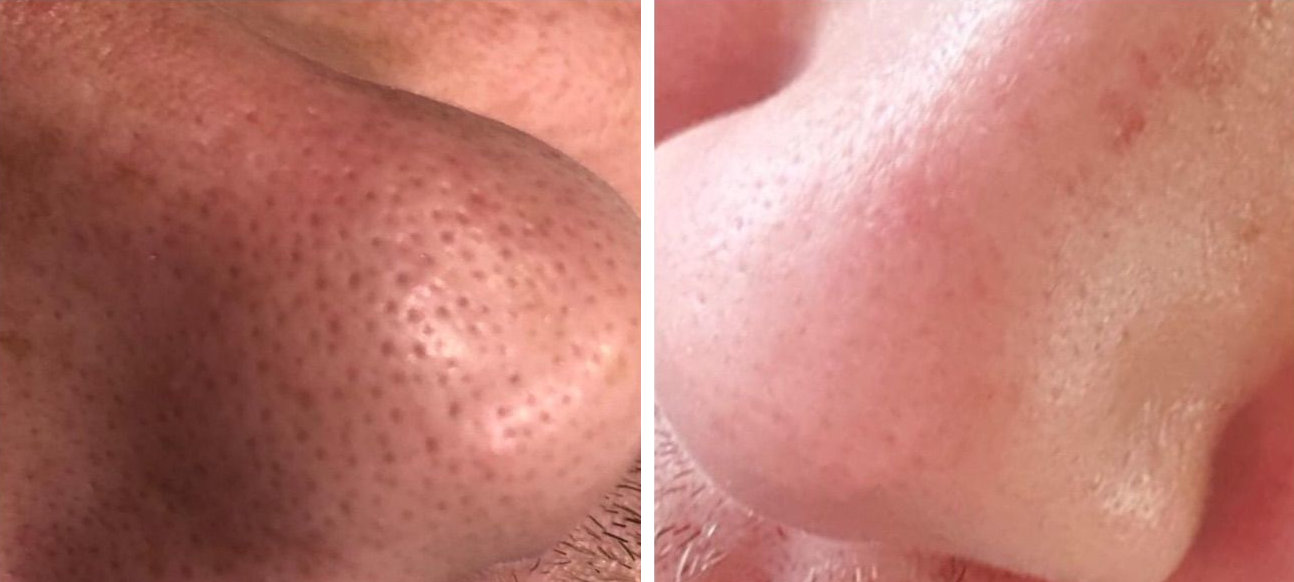 To book an appointment with us, call, email or book online.