Why bother with the stress and hassle of shaving, waxing and plucking when an affordable, painless and accessible solution exists?
Many people think laser hair removal isn't for them due to perceived higher costs or high levels of pain. At Laser Skin Medical, we can ensure that neither of these will be a concern, so say goodbye to struggle and hello to smooth and hairless skin! 
All of our laser hair removal treatments begin with a free consultation. During the consultation, we will analyse your individual skin type, hair colour and thickness to ensure that the treatment is carried out effectively and safely.
Benefits of Cynosure Elite + Laser Treatment
Laser Skin Medical provides the most high quality and personal service to each of our clients at each and every visit.
Cynosure Elite+ is a hair removal system which will leave your skin smooth as silk.  It can treat all skin types with outstanding speed and efficiency.
Laser Hair Removal is internationally approved for permanent hair reduction. The technology is fast, easy, comfortable and extremely time-efficient. It is also the most cost effective method available today to achieve the convenience of having much less hair permanently. It is only going to save you time and money in the long run.
Inquire about our competitive rates today!
Benefits of the laser hair removal
There are countless options of hair removal procedures, you're already familiar with waxing, threadinh, shaving and tweezing. However, hair removal is a vicious and seemengly endless cycle. No matter how many times you remove hair, it will aleways grow back. Luckily, lasers work by dismantling the root of the hair over a course of several sessions. When the laser light gets absorbed into the root of your hair follicle, it transforms into heat energy and will eventually dissolve Permanently. Laser Hair removal is a medical procedure which is scientifically proven to be associated with number of benefits:
Extremely fast and efficient way to remove unwanted hair

Very advanced technology

 

Suitable for all skin types and colours, from skin type 1 to 6
Can remove hair from any part of the body
Long term solution, unlike waxing and shaving

 

Cost effective with long term convenience

 

No more razor burns due to shaving

 

Prevents ingrown hairs that are associated with waxing and shaving

 

No "chicken skin" effects due to plucking

 

No scaring

 

Gives a smooth and silky skin
Lasting and visible results

 

Increases your confidence

 
Is laser hair removal a permanent treatment?
It is one of the most common questions about Laser Hair Removal and its ability to minimize unwanted hair. The answer to this question is not exactly. 
Laser Hair removal is permanent hair reduction, but many factors contribute to this desired result. Every patient is different and everyone's hair grows back at different rates.
It is a long-lasting form of hair removal that damages and destroys hair follicles and it offers a long-term solution for unwanted body hair on multiple areas of the body.
While patients will never get rid of 100% of all follicles, the number of hair follicles that produce hair can be reduced by 75%-95%. For the most effective and long-lasting results, it is recommended to have a course of 6-8 sessions and in some cases 9-12 sessions, 4-6 weeks apart.
Is It Also Effective on Darker Skin?
Cynosure Elite+ has FDA approved technology. 
It is the most effective and safest laser for Asian and Black Skin Types (Fitzpatrick 4-6).
Cynosure Elite + laser uses ND Yag technology, 1064nm wavelengths which can safely pass through melanin rich skin and only treat the unwanted hair follicle blood supply without harming surrounding skin.
Air cooling throughout treatment can also enhance a patient's comfort and satisfaction.
Laser Hair removal safety?
Is it safe?
Laser Hair removal is safe. It is designed to only target the hair follicles and not the surrounding skin.
Laser Hair Removal Treatment Overview
PROCEDURE TIME
From 15 minutes
TREATMENT PRICE
From £35
SKIN TYPE
Suitable for all skin types
NUMBER OF SESSIONS:
A minimum of 6 sessions is initially required
DOWNTIME:
No downtime
BACK TO WORK:
Same day
DURATION OF RESULTS:
Can be a lifetime with yearly maintenance
TIMEFRAME FOR RESULTS:
After each session you will see gradual results
Benefits of Cynosure Elite + Laser Treatment
Cynosure Elite+ method of laser hair removal, which is preformed by Silvia at HARLEY STREET clinic, has its own particular benefits that make it a superior way to permanently remove unwanted hair from face and body.
• Uses two clinically-proven laser frequencies to remove unwanted hair, allowing people of all skin tones to achieve the best possible results.
• The all-purpose 755nm Alexandrite wavelength is ideal for virtually all skin tones and hair types, including people with very light or delicate skin.
• The specialist 1064nm Nd:YAG wavelength is clinically proven to be safe and effective for people with dark skin types
• We use patented cooling devices for cooling the skin surface during treatments and reduce risk of burning.
• Cynosure Elite + has been approved by the FDA for permanent hair reduction. With all of these important advantages, Cynosure Elite+ is a highly popular and effective method of removing unwanted facial and body hair. It provides good, reliable results, is minimally-invasive with low discomfort, and best of all, allows you to banish unwanted hair forever.
How Does Laser Hair Removal Work?
The laser device applies a concentrated light beam (laser) which targets the darkness of the melanin pigment in the hair follicle and destroys the follicle. Laser hair removal targets hair in its active growing phase. Usually, that is about 20-30% of the hair in the treatment area. Hair follicles in their active growing stage will die and fall out in 2-3 weeks.
Depending on the treated body area, we will wait 4 to 6 weeks for your next treatment. This period allows a meaningful amount of the remaining hair to move into the active growing phase so that your next treatment removes the maximum amount of hair. Therefore, most clients will need 6 to 8 treatments to achieve maximum results.
Specific Instructions After Laser Hair Removal
• Keep the treatment area clean
• After the treatment, the treated area may become pink, red, inflamed, or even blistered and may last several hours to several days, apply the ice or Aloe Vera cooling gels.
• Wash with a mild soap and water, but do not rub or scrub the area.
• Do not expose treatment areas to direct sunlight.
• Do not use tanning beds at any time during your treatment intervals with this laser.
• Wear a broad-spectrum sun block (UVA/UVB) and SPF 30+ should be applied to the treatment area through the course of treatment.
• Avoid shaving the treated area for at least 4 days after treatment. A few days after the treatment the hair will start to grow back. You can shave after 4 days. Within the next 2 to 3 weeks the hair that was damaged by the laser will fall out. Over a course of treatments the hair growth will slow, becoming thinner and patchier.
• Do not wax, pluck, thread or use depilatories between laser sessions, only shave if necessary.
• Avoid hot stimulation like saunas, Jacuzzi or cardio exercise for 48 hours after treatment.
Why Are Multiple Treatments Needed
On average you will require between 6 to 8 sessions to get optimum results. Treatments are required every 4-6 weeks depending on the body area treated. The duration of each session depends on area treated. As the treatments progress the amount of treated hair diminishes and therefor the sessions will become quicker. Maintenance treatments are recommended for long lasting results.
Is Hair Removal Safe for Dark Skin
Yes. ND YAG wavelength is the only wavelength suitable for hair removal on Asian and Black skin types.
What Is The Advantage of Laser Hair Removal?
• Permanent hair reduction
• Gentle, fast and convenient
• Long-lasting results
• Suitable for all skin types
• No ingrown hair, irritated or infected skin
• Suitable for larger and smaller areas Cynosure Elite+ hair removal process will leave your skin smooth as silk!  Treat all skin types with outstanding speed and efficiency.
Is Cynosure Elite+ Laser Hair Removal Suitable for All Skin Types?
YES, CYNOSURE ELITE+ Laser Is suitable for all skin types, including very light and very dark skin, and most hair colours (except blonde and gray). I will determine if you are a good candidate based on a variety of factors during your consultations. Cynosure Elite + is a dual wavelength laser hair removal. The Alexandrite wavelength is ideal for hair removal on light skin types and ND YAG wavelength is the only wavelength suitable for hair removal on Asian and Black skin types.
Specific Instructions Before Laser Hair Removal
• The treatment area needs to be shaved to skin level 24 hours prior to treatment.
• Do not wax or remove the follicles in any way as they need to be intact for the laser to target them
• Avoid sun exposure 4 weeks before the treatment, avoid tanning beds, self tanning lotions/creams/sprays.
• Treatment area needs to be fully washed off and has no makeup, FAKE TAN or creams.
• We do not recommend to have laser treatments if you are on medications such as Roaccutane, Retin-A, St Johns Wart, Gold Therapy etc, at present or within the past 6 months.
• Laser treatments can not be given during your pregnancy or while breastfeeding.
Sun, Laser and Me
Treatment can be carried out 4 weeks after the sun holiday.
Will I Require a Patch Test
Yes, it is a compulsory step in the treatment process, to ensure your skin does not suffer from adverse reaction to the laser.
To book an appointment with us, call, email or book online.
Laser Hair Removal –
Before and After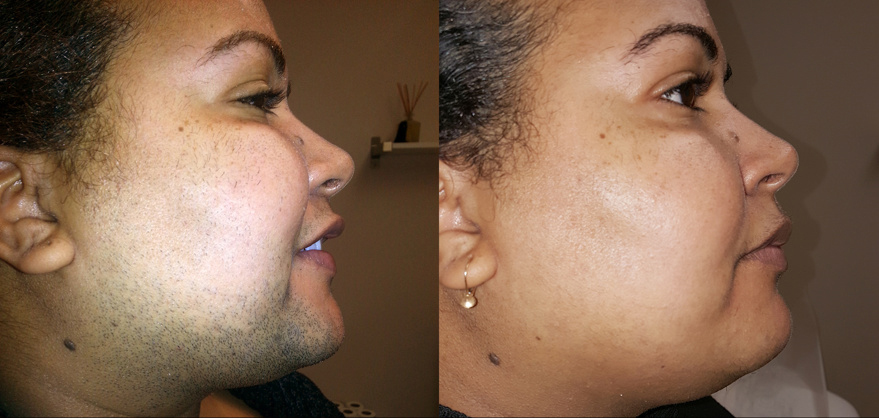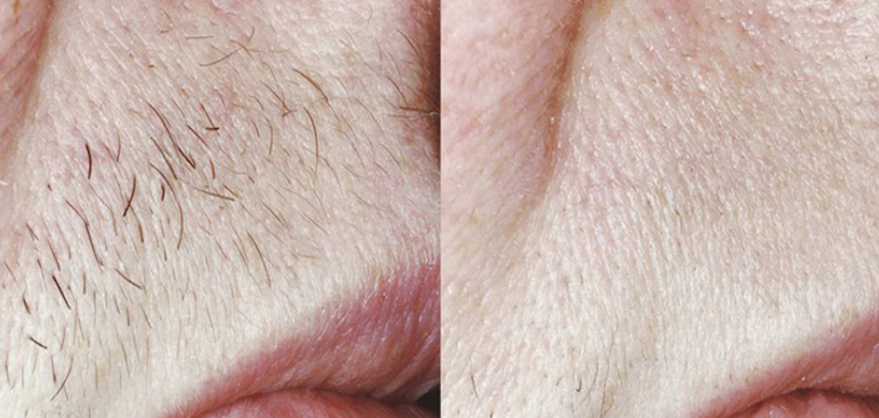 Fill out our form and we will give you call back when it suits you.