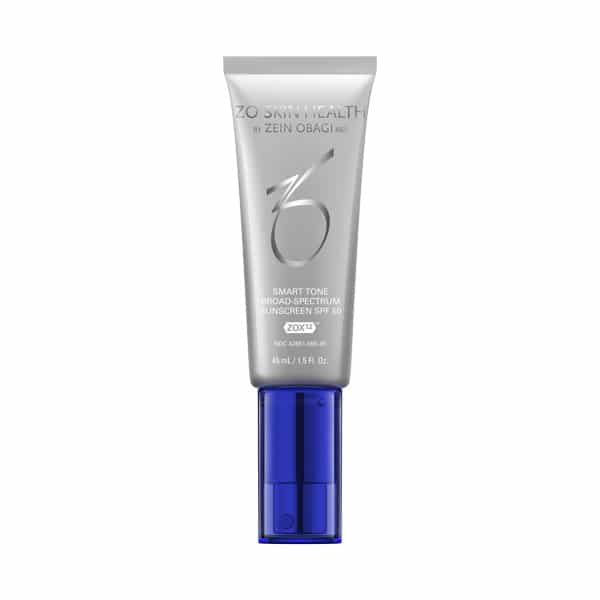 SMART TONE BROAD SPECTRUM SPF 50

Non-greasy, quick drying sunscreen with a sheer matte finish offering broad-spectrum protection against UVA, UVB rays. Shields skin from aging effects of high-energy visible (HEV) light. Water and perspiration resistant, this sunscreen delivers superior protection during outdoor activities while hydrating the skin to prevent dryness. Oxybenzone free. ZOX12® engineered with our exclusive 12-hour, time-release ZOX12® complex, our sunscreens help shield the skin from harmful
infrared (IR-A) rays.
Benefits
• Broad spectrum UVA/UVB protection
• Provides additional protection against high-energy visible (HEV) light
• Combats against the appearance of redness
• Exclusive 12-hour time-release antioxidant complex guards against appearance of
photodamage
Size
45 ml/1.5 Fl. Oz.
DIRECTIONS
• Apply liberally 15 minutes before sun exposure and as needed.
• Use a water-resistant sunscreen if swimming or sweating.
• Reapply at least every 2 hours.
ACTIVE INGREDIENTS
• Avobenzone 3%: Provides UVA protection
• Homosalate 10%, octisalate 5% and octocrylene 10%: Provide primarily UVB protection
• Fractionated melanin: Designed to shield skin from HEV light
• Iron oxides and mica: Pressure-release color system for customizable skin tone
• Tetrahexyldecyl ascorbate: Visual pigmentation inhibition
• Helianthus annuus (sunflower) seed oil, ethyl ferulate, rosmarinus officinalis
(rosemary) leaf extract, disodium uridine phosphate, panthenyl triacetate, ethyl
linoleate and tocopherol: Helps provide skin protection and supports natural cellular
rejuvenation
• Tocopheryl acetate, ascorbic acid, retinyl palmitate: 12-hour time-release antioxidant complex fights against free radical damage
• Petasites japonicus root extract and beta glucan: Provides visible anti-redness benefits
To book an appointment with us, call, email or book online.